AAON Announces Promotion of Doug Wichman to President of AAON Coil Products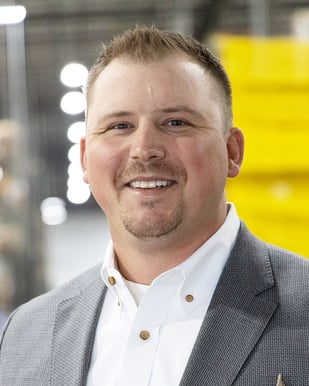 TULSA, OK, February 27, 2023 – The Board of Directors of AAON Coil Products, Inc. ("AAON Coil Products"), a wholly-owned subsidiary of AAON, Inc. (the "Company"), promoted Doug Wichman as President of AAON Coil Products, effective February 24, 2023. Mr. Wichman also currently serves as a Vice President of the Company, a position he has held since January 1, 2022.
Gary D. Fields, AAON CEO and President, stated, "I am very pleased to announce Doug's promotion to President, AAON Coil Products. Doug has been an integral part of the development and successful execution of our business plan and substantial growth in Longview, TX in the past twelve months. The promotion of leaders like Doug will allow us to successfully continue to execute on our long-term plans."
Mr. Wichman, 35, has been with the Company since 2013, most recently serving as Executive Vice President of AAON Coil Products since January 2022. Prior to that, he served as AAON's Director of Manufacturing in Tulsa, and held several roles, including Plant Manager from 2017 to 2018 and Manufacturing Engineer from 2013 to 2017. Mr. Wichman has extensive knowledge and experience with all aspects of AAON's manufacturing processes. He earned his BA in Mechanical Engineering from Montana Tech and MBA from the University of Montana.
About AAON
Founded in 1988, AAON is a world leader in HVAC solutions for commercial and industrial indoor environments. The Company's industry-leading approach to designing and manufacturing highly configurable equipment to meet exact needs creates a premier ownership experience with greater efficiency, performance, and long-term value. AAON is headquartered in Tulsa, Oklahoma, where its world-class innovation center and testing lab allows AAON engineers to continuously push boundaries and advance the industry. For more information, please visit www.AAON.com.
Forward-Looking Statements
This press release includes "forward-looking statements" within the meaning of the Private Securities Litigation Reform Act of 1995. Words such as "expects", "anticipates", "intends", "plans", "believes", "seeks", "estimates", "should", "will", and variations of such words and similar expressions are intended to identify such forward-looking statements. These statements are not guarantees of future performance and involve certain risks, uncertainties, and assumptions, which are difficult to predict. Therefore, actual outcomes and results may differ materially from what is expressed or forecasted in such forward-looking statements. Readers are cautioned not to place undue reliance on these forward-looking statements, which speak only as of the date on which they are made. We undertake no obligations to update publicly any forward-looking statements, whether as a result of new information, or future events.
Contact
Joseph Mondillo
Director of Investor Relations
Phone: (617) 877-6346
Email: joseph.mondillo@aaon.com
Stay up-to-date
Don't miss out on the latest news, trends, and insights in your area of interest. Subscribe today to stay informed.