AIR HANDLING UNITS
AAON's premier selection of indoor and outdoor air handling units offer performance, reliability, and value beyond compare.
Engineered for any application imaginable.
AAON Air Handling Units boast extreme flexibility and outstanding performance to provide a premium solution for virtually any application.

They can be matched with AAON Condensing Units to create a complete system. Both indoor air handling and outdoor air handling configurations are available.
PRODUCT OVERVIEW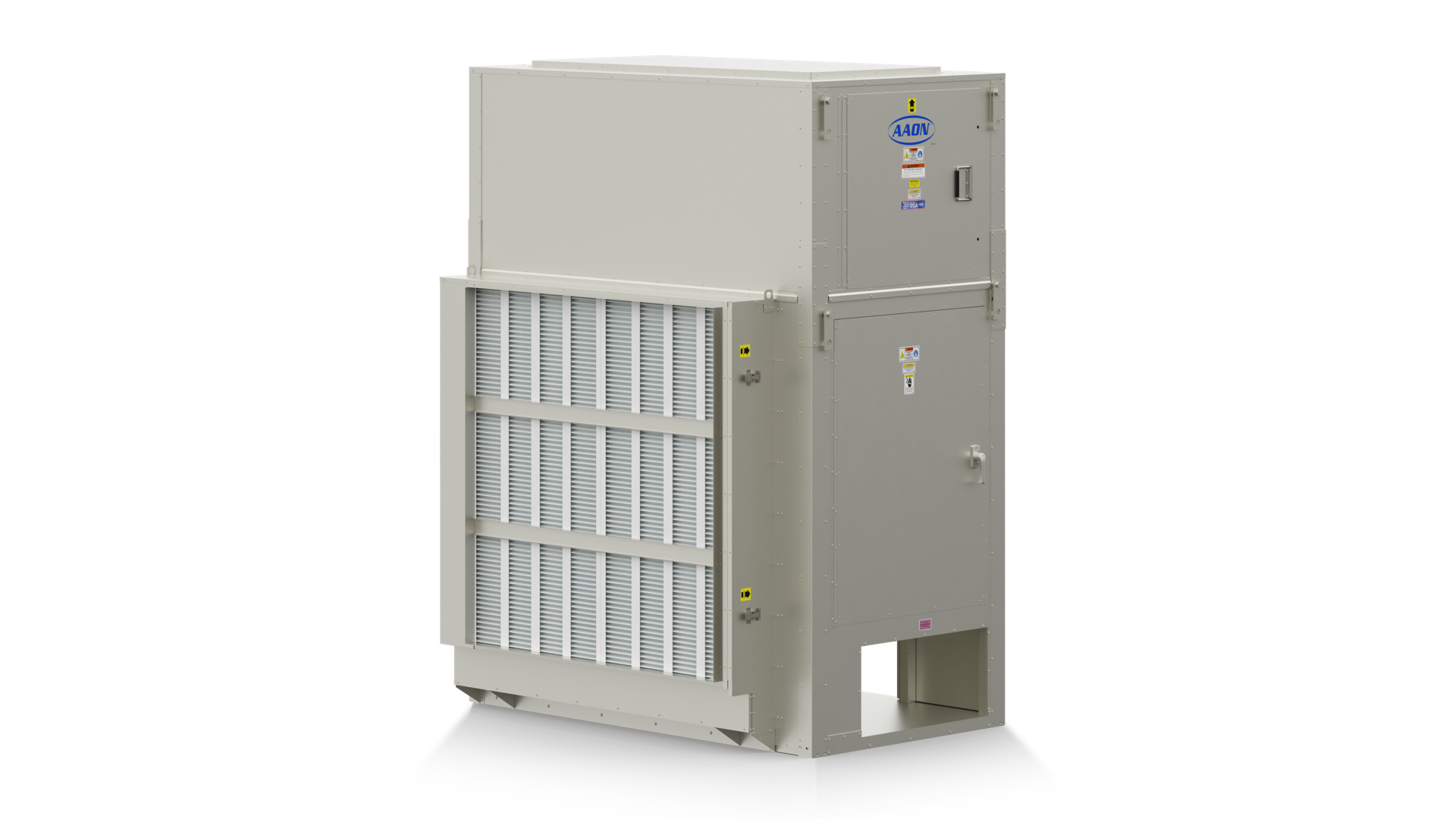 Air Handling Units (AHUs) play a crucial role in maintaining a comfortable and healthy indoor environment by circulating clean, conditioned air throughout the building. AHUs can also include features like humidifiers, dehumidifiers, and heat recovery systems, depending on the specific needs of the building.

AAON air handling units provide best-in-class flexibility with indoor units, outdoor units, packaged units where all refrigeration components are in one unit or split units that consist of a condensing unit and air handler.
AAON air handling units provide the ultimate in performance, optimization, and long-term value. With industry-leading quality, you can expect superior energy savings, accessible maintenance and reliability.
Key features and specifications:
Indoor units available from 450 - 27,000 CFM and outdoor units available from 400 - 75,500 CFM. DX Coil, Chilled Water Coil, and no cooling options are also available.
AAON RQ, RN, and RZ products can be packaged units or sold as a split and paired with a condensing unit.
AAON CF is our condensing unit product line. AAON H3 and V3 air handlers are most often paired with the CF.
AAON SA and SB products can be either a packaged or split system (self contained unit) and may require an external source of water to operate.
AAON M2 products can be an air handler or a self contained unit depending on what your AAON rep selects.
We're not just about saying we're the best. We're about proving it to ourselves and the industry with thorough testing, robust quality control measures and certifications.
Tested to stand the test of time. With our very own state of the art research & development lab we can conduct research, product development, and testing of new and existing products. Our R&D facility allows us to test to AHRI standards as well as more extreme conditions than certification testing standards or our competitors can perform.
Committed to quality. Our dedication to our customers, compliance with regulatory requirements, and commitment to stakeholders are the greatest incentives to our quality goals. Every product goes through thorough inspection, testing and final inspection.
Certifiably cool. Many of our products meet certification standards of the governing body for the HVAC industry, the Air-Conditioning, Heating, and Refrigeration Institute (AHRI).
When it comes to selecting an air handling unit, there are a number of things consider, including:
Airflow rate and capacity: Go with the flow. The AHU's airflow rate and capacity should be matched to the building's needs. Consider the size of the building, the number of occupants, and the expected air exchange rate to ensure that the AHU can effectively circulate and condition the air.
Efficiency: Look for an AHU with a high efficiency rating to minimize energy costs and reduce the building's carbon footprint.
Sound level: Less sound means more comfort. The sound level of the AHU should be taken into account, especially in buildings where low sound levels are critical, such as healthcare facilities. Look for an AHU with a low decibel rating or features like noise-reducing insulation to minimize noise pollution.
AAON units are designed with features that make it easier to save time and money.
Designed with access in mind. AAON units are designed with full length hinge doors as opposed to removable panels with sheet metal screws that can be easily lost or stripped out over time.
Proactive troubleshooting. Troubleshooting wiring is a common first step in identifying issues. AAON provides full color complete wiring diagrams laminated inside each unit. No more black and white diagrams that don't help diagnose the problem.
We're about getting the job done. AAON provides every technician comprehensive support with a dedicated Service & Tech Support team.
We're here to help protect your investment. Get peace of mind with warranty programs that ensure your unit is built to last.
CF,H3, V3, SA, SB and M2 products: The Limited Warranty is effective for 12 months from the date of original installation, or 18 months from the date of original shipment from the factory, whichever occurs first.
Compressors in SA and SB products: Compressors in these single package equipment products are covered for 60 months from the date of shipment from the factory.
Compressors in CF: Compressors in these products are covered for 12 months from the date of shipment from the factory. Optional 5-Year Extended Limited Warranties are available for purchase.
Engineered to Optimize
All AAON HVAC products are highly configurable and designed to optimize your exact environment with cutting-edge engineering to push the boundaries in virtually any setting.
Industry Leading Quality
AAON stops at nothing to design the very best. Our systems set the industry standard for longevity and low cost of ownership.
Ease of Maintenance
AAON equipment is easy to access and convenient to work on. Our award-winning cabinet designs make it simple for technicians to service our units efficiently and affordably.
Verified Performance
AAON HVAC units offer easy start-up and renowned reliability. Our products are tested for all functions and receive a unit-specific report before they leave the factory.
Setting industry firsts since 1988.
Contact your local AAON Rep to discover the product that's right for your project.