TULSA, OK, November 6, 2023 - AAON, INC. (NASDAQ-AAON), a provider of premier, configurable HVAC solutions that bring long-term value to customers and owners, today announced its results for the third quarter of 2023.
Gary Fields, President and CEO, stated, "The third quarter was another strong quarter for AAON. For a second straight quarter, we achieved both record net sales and gross profits. All three segments performed well. Our AAON Oklahoma and BASX segments both realized robust double digit organic net sales growth along with record gross profits, and our AAON Coil Products segment recorded its highest profits over the last four quarters. Across all three segments, improved productivity was a key factor to both production output and gross profit margins. Our manufacturing teams did a great job of improving the efficiency of our operations while continuing to add production capacity. Gross profit margin of 37.2% reflects these productivity gains along with incremental pricing. All in, our operations have never performed better as reflected in the results."
Net sales for the third quarter of 2023 increased 28.6% to $312.0 million from $242.6 million in the third quarter of 2022. This marked the seventh straight quarter of record sales in the Company's history. The Company had a healthy backlog entering the quarter, which combined with improved operational efficiencies, contributed to year over year organic volume growth of approximately 11.9%. Supply chain disruptions continue to abate, also aiding to the rising production rates.
Gross profit margin in the quarter increased to 37.2%, up from 27.0% in the comparable quarter in 2022 and up from 33.1% in the previous quarter. The drivers for the quarter-over-quarter margin expansion were incremental pricing, improved operational efficiencies and improved overhead absorption.
Net income for the quarter was $48.1 million, an increase of $20.6 million or 75.0% compared to the prior year quarter. Earnings per diluted share for the three months ended September 30, 2023, was $0.58, an increase of 70.6% from the third quarter of 2022. Excluding the net impact of a one-time settlement, non-GAAP adjusted net income and earnings per diluted share were $53.2 million and $0.64, respectively, an approximate 90% increase in both over the prior year period.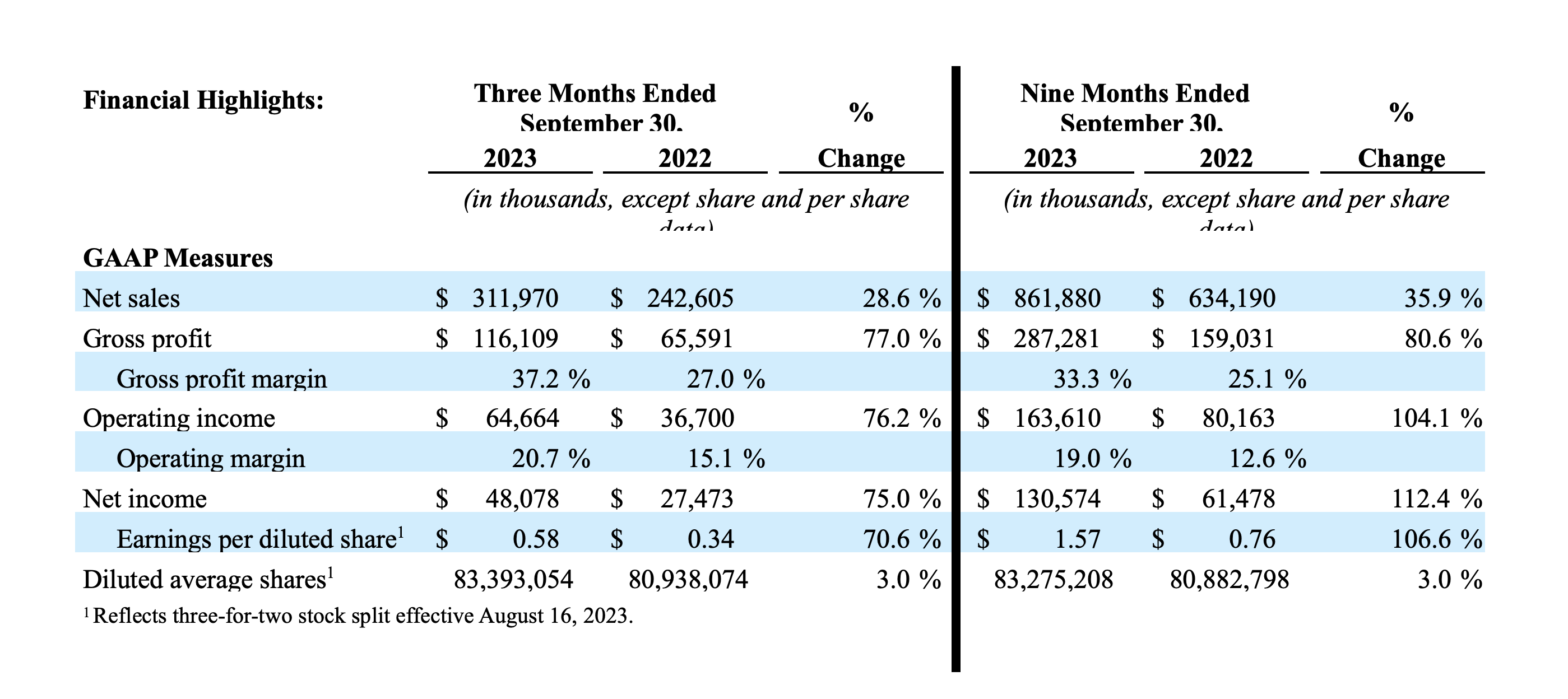 ---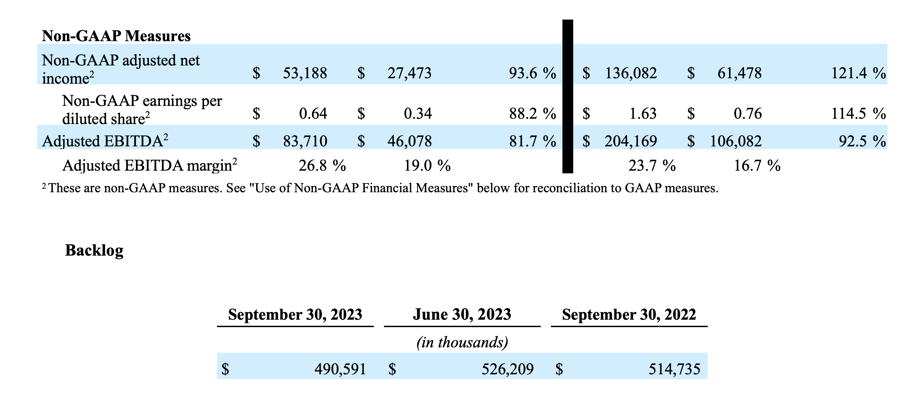 Gains in production efficiency continued throughout the quarter resulting in all time high production rates that have continued to improve lead times. Bookings increased quarter over quarter, but were intentionally outpaced by increases in production to draw down backlog to more appropriate levels. The Company finished the third quarter of 2023 with a backlog of $490.6 million, down 4.7% from $514.7 million a year ago, and down from $526.2 million at the end of the second quarter of 2023.
Mr. Fields concluded, "As we approach the end of this year, we are enthusiastic with the outlook. We are optimistic the fourth quarter and year end results will finish strong. Looking into next year, while there are pockets of our end-markets that are slowing, there are several that are very strong. Furthermore, we anticipate upcoming new refrigerant regulations will noticeably disrupt the industry in 2024, which we view as a positive. AAON thrives on challenges like this and we view it as another opportunity to take market share. Also, in relation to factors such as inflation, supply chain disruptions, workforce dynamics and internal leadership, we believe AAON is entering a more predictable manufacturing environment than we've seen in years, which will enable our productivity to further increase. Our organization has made major enhancements in the last few years, many of which have yet to be financially recognized. We are highly optimistic about the future and are excited to be able to create more value for all of our stakeholders."
As of September 30, 2023, the Company had cash, cash equivalents and restricted cash of $22.5 million and a balance of $78.4 million on the revolving credit facility. Rebecca Thompson, CFO, commented, "Our cash flows are strengthening with our second straight quarter of cash flows from operating activities exceeding our capital expenditures. We also completed the repurchase of approximately 403,000 shares for $25.0 million during the quarter. As construction ramps at our Longview, Texas plant expansion, we anticipate spending down our restricted cash balance and using the funds to pay down our revolving line of credit. Our balance sheet remains strong with a current ratio of 3.0 and a leverage ratio of 0.33."
Conference Call
The Company will host a conference call and webcast today at 5:15 P.M. EST to discuss the third quarter 2023 results and outlook. The conference call will be accessible via dial-in for those who wish to participate in Q&A as well as a listen-only webcast. The dial-in is accessible at 1-877-550-1858. To access the listen-only webcast, please register at https://app.webinar.net/or1gZEMZANL. On the next business day following the call, a replay of the call will be available on the Company's website at https://AAON.com/Investors.
About AAON
Founded in 1988, AAON is a world leader in HVAC solutions for commercial and industrial indoor environments. The Company's industry-leading approach to designing and manufacturing highly configurable equipment to meet exact needs creates a premier ownership experience with greater efficiency, performance and long-term value. AAON is headquartered in Tulsa, Oklahoma, where its world-class innovation center and testing lab allows AAON engineers to continuously push boundaries and advance the industry. For more information, please visit www.aaon.com.
Forward-Looking Statements
This press release includes "forward-looking statements" within the meaning of the Private Securities Litigation Reform Act of 1995. Words such as "expects", "anticipates", "intends", "plans", "believes", "seeks", "estimates", "should", "will", and variations of such words and similar expressions are intended to identify such forward-looking statements. These statements are not guarantees of future performance and involve certain risks, uncertainties and assumptions, which are difficult to predict. Therefore, actual outcomes and results may differ materially from what is expressed or forecasted in such forward-looking statements. Readers are cautioned not to place undue reliance on these forward-looking statements, which speak only as of the date on which they are made. We undertake no obligations to update publicly any forward-looking statements, whether as a result of new information, future events or otherwise. Important factors that could cause results to differ materially from those in the forward-looking statements include (1) the timing and extent of changes in raw material and component prices, (2) the effects of fluctuations in the commercial/industrial new construction market, (3) the timing and extent of changes in interest rates, as well as other competitive factors during the year, and (4) general economic, market or business conditions.

Contact Information
Joseph Mondillo
Director of Investor Relations
Phone: (617) 877-6346
Email: joseph.mondillo@aaon.com
Stay up-to-date
Don't miss out on the latest news, trends, and insights in your area of interest. Subscribe today to stay informed.