AAON has a rigid polyurethane foam cabinet construction that is remarkably impact resistant.
AAON's cabinet construction consists of rigid polyurethane foam panels with G90 galvanized steel on both sides and a closed cell polyurethane foam interior core. The inner wall protects the insulation from moisture damage, prevents microbial growth, and is easy to clean. They also make the cabinet more rigid and resistant to damage and reduce radiated sound.
The addition of foam in AAON's cabinet construction increases the impact resistance of the panels. In a product test, an AAON cabinet was able to withstand two direct hits from an 8-foot-long 2" x 4" board traveling at over 35 miles per hour. The image below shows no reduction of cabinet integrity after two strikes in the same place.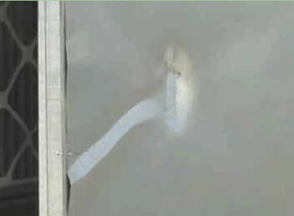 AAON Rigid Polyurethane Foam Panel Impact Resistance
Rigidity
The laminate construction of the polyurethane foam and galvanized steel increases the panel rigidity. The construction yields a lightweight panel while still providing an exceptional L/240 deflection ratio at eight inches of static pressure. The increased rigidity is another reason for the low infiltration rate on AAON cabinets.
AAON unit walls are constructed with sheet metal thickness of 24 gauge, and two-inch rigid polyurethane foam insulated panels that have a thermal resistance R-value of 13 or greater.